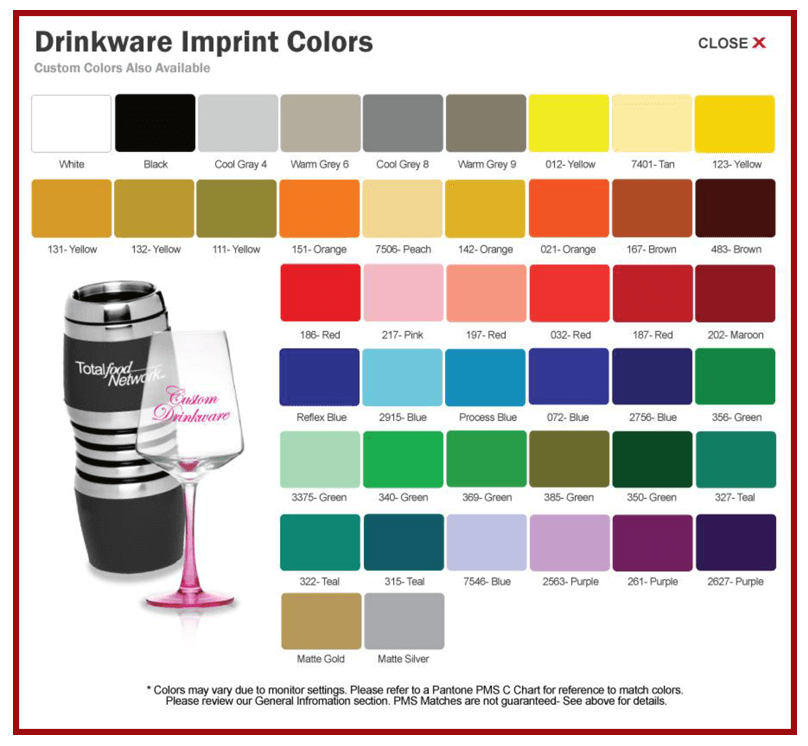 METHODS OF IMPRINTING
See individual catalog pages and website for SET UP CHARGES, RUN CHARGES and MINIMUM IMPRINT QUANTITIES. Imprinted quantities apply per copy/logo/size. Re-Order Set Up Charge $30(g)/color/location as applicable (except sublimation)
DIRECT PRINT: standard screen print/pad print method and is preferred for single-color printing jobs on drinkware and most spot printing jobs on other products. Imprint areas provided are generally references for direct print imprint areas.
DECAL PRINTING: enables us to recreate complex, multi-colored permanent images. Decal printing may also enable a larger imprint area. Most glass and ceramic drinkware jobs that require more than a one color imprint will be produced using the decal method.. PMS matches cannot be guaranteed as resulting imprinted color(s) may change after the "firing" process. Please note: the decal application process is "manual" and variations in placements as well as slight irregularities are deemed acceptable and are not to be considered defective or damaged.
LASER ENGRAVING: permanently engraves or etches artwork into the surface of the item..
SUBLIMATION: allows for the transfer of 4 color process art and is offered on a few selected products as indicated. It is recommended that Sublimated Ceramic Mugs be hand washed only with warm soap and water for best results.
PMS COLOR MATCHING
Exact PMS color matches are not available. We try to match your color selections as closely as possible using PMS numbers as a reference only, an exact match cannot be guaranteed. We offer a wide selection of Standard PMS colors at no charge that can be viewed on our website. PMS Charge for approx. match for other PMS colors: $30(g)/color.
For multi-color imprints produced with our CMYK 4 color decal process, a PMS match cannot be guaranteed as we do not use the Pantone process colors. We will do our best to approximate the PMS color requested but will not be responsible for variations in the PMS color matches for decal printing. PMS Charge for approx. match: $30(g)/color.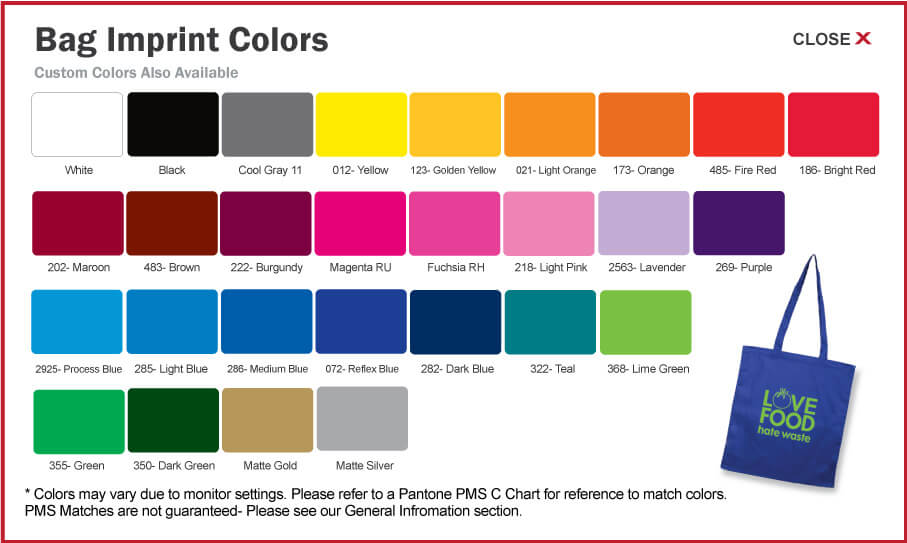 Single Color Imprint
All prices include a one color screen printed imprint   in one location. Setup is $49.00 (v) for one color imprint
Second Position imprint: Set up $49.00 (v)
Running Charge: $.49 (v) 
Screen printed: One color imprints are screen-printed. 
Heat Transfer: ColorPerfect Set Up $49.00(V). Only near tonal quality may be expected. Minimum Qty: 100 units. No halftone screens or gradations.
Typesetting: In house stock typestyles, straight-line copy. Minimum charge $35.00 (V). Paper proof
included.
Color match: $30.00 (v). Exact color match not available 
Artwork Charges: Minimum charge $50.00 per hour (X).Paper proof included. Please call Kool Pak Customer Service to confirm.
Pre-Production Proofs: $36.00 (V) plus the end quantity cost of the item, screen charges, art charges and
Shipping costs. Changes to actual proofs are subject to additional charges. Pre-production proofs are not
Available on multi-color imprints.
Rush charges: A rush charge may be applied to any order, which requires shipment sooner than schedule allows. Rush charges are a 25% up-charge. Expedite shipping must be approved.
Less than Minimum: Imprinted items as per published quantity. For less than minimum quantity add  $30.00  (V) and use the 1st column pricing. Absolute minimum is ½ of published quantity.
Samples: Priced at end quantity pricing plus freight charges
Production time:
One color / one location imprint: Approximately 7 business days from receipt and approval of order & art.
Shipping is based on availability of items ordered.
Multi-Color imprint: Estimated production: 21 business days. Additional charges apply see general
Information.
Paper Proofs/Order Acknowledgments: 
Artwork: Must be electronic camera ready. E-Mail to: Corel Draw, Adobe Illustrator, Postscript EPS files. Laser or Ink Jet printouts may not be camera ready. Multi color art: Must be color separated. Include composite print out of artwork with your order. All orders are acknowledged by E-Mail or Fax within 24 hours of receipt. If you do not receive an acknowledgement, please call Kool Pak. Artwork is not prepared for printing until we have your order in process.
Paper proofs: $10.50 (V) Specify E-Mail address.
Revisions: $10.50 (V)
 
Color Perfect
Production Time: 21 Days from receipt of artwork or proof approval.
Set-up Charges: $49.00(V).
Proofs: Virtual Proofs only.
Rush Service: Not Available
PMS Match: Exact PMS matches not available. PMS colors are converted to corresponding CMYK colors to achieve close equivalents. PMS color matches $30.00(v) per color.
Minimums: No Less than Minimum. 100 pieces is our minimum quantity.
Order Acknowledgements: All orders are acknowledged by E-Mail  to the E-Mail  address on file in our system unless specifically requested otherwise on the order.
Art Acknowledgements: Art acknowledgments sent to the "sender of the art" (by E-Mail) unless specified
specifically on the art. Changes in art received are subject to art charges of $25.00 (X).
Virtual Art Proofs: $10.00 (V) Via E-Mail. Please specify on artwork. Call Kool Pak Customer Service for
information.
Shade Variance: Due to the nature of materials and variance in manufactured products, Kook Pak cannot
guarantee exact color matches with orders, or on repeat orders due to dye lot variation.
Inventory Delays: At times a style or color may be temporarily out of stock. You will be notified of any
delays and your order will be filled as soon as possible. Kook Pak will make every effort to substitute a similar bag if extensive delays occur. Reorders must indicate the proper Kool Pak order number to insure accuracy of  items and imprints.
Custom Direct Import Items: Please call your customer service representative for information.
 Embroidery: Not available.
Orders: All orders require e-mail confirmation.
Over/Under Runs: Kool Pak makes every effort to ship exact amounts. However, the factory reserves the right to ship 5% over or under and bill accordingly.
Changes to orders: Any changes to an order must be confirmed in writing by email
Cancellations: Kook Pak must approve Cancellations. You will be charged for all costs incurred before
cancellation request is received in writing at Kook Pak.
Returns: Not accepted without a return authorization number provided by Kool Pak. Kool Pak must review
discrepancies within 7 days of receipt of order. 
Shipping:
Freight & F.O.B. Information:
Terms of sale are F.O.B.
Miami, FL
Standard Method: FedEx Ground or UPS for customer orders.  Kool Pak reserves the right to make carrier selection to meet operational and customer needs, including the use of expedited services to meet customer deadlines. Freight for these shipments will be "prepaid" and added to the invoice.
Drop Shipments: $7.50(X) per address plus freight and insurance (if requested).
Split Shipments: 100-piece minimum at $7.50 (X) per location. Kool Pak reserves the right to make split shipment.
Delays in Shipments: Kool Pak is not responsible for any delays en route.
Payment Terms:  Credit Card with the order. Unless terms are approved prior to order confirmation
Copyright Trademark Laws:
Customer warrants that he/she has the right to use the marks, symbols, or designs depicted in the artwork and shall indemnify and hold Kool Pak harmless in any infringement actions as a result of printing the artwork.
Kool Pak Reserves the right to reject any artwork deemed inappropriate or not printable on items in this catalog. Prices and specifications are subject to change without notice. All corporate logos or registered trademarks are shown only to illustrate graphics capabilities. Logo bearing merchandise can only be purchased by or through the company to which the logo or symbol belongs. Imprints shown in photos may include PMS colors, which would require additional charges.
Prices effective 1/1/2017
Kool Pak® 2017
www.koolpak.com